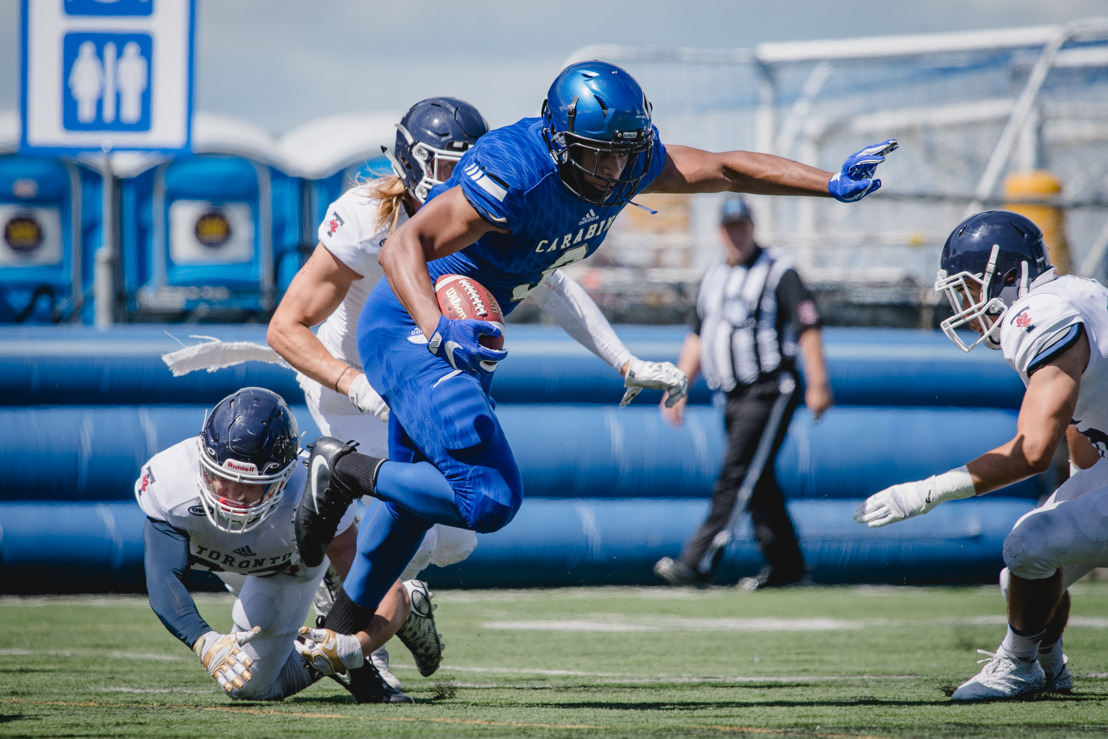 ARGONAUTS SELECT SEVEN IN 2018 CFL DRAFT
Friday, May 4, 2018 —

TORONTO - The Toronto Argonauts added to their Canadian content this evening with seven picks in the 2018 CFL Draft.

ARGOS 2018 CFL DRAFT CLASS
Round
Pick
Name
Position
College
1
9
Ryan Hunter
Offensive Line
Bowling Green
2
18
Nelkas Kwemo
Linebacker
Queen's
3
20
Regis Cibasu
Wide Receiver
Montreal
4
35
Simon Gingras-Gagnon
Fullback
Laval
5
43
Sean Harrington
Linebacker
Michigan State
7
60
Mathieu Loiselle
Linebacker
Wagner College
8
69
Kain Anzovino
Long Snapper
Kent State
Hunter, 23, played in 52 games, starting 38 in four seasons at Bowling Green University after redshirting in 2013. The 6-4, 324-pound native of North Bay, Ontario, started all 14 games at left guard as a sophomore, all 12 games at right tackle as a junior, and all 12 games at left tackle as a senior with the Falcons. He earned MAC Distinguished Scholar-Athlete honours in each of his three final seasons at Bowling Green and received Academic All-MAC honours in four consecutive years.
Kwemo, 22, played in 28 games in four seasons at Queen's University, recording 149 total tackles, 15.5 tackles for a loss, 9.5 sacks, two forced fumbles, three interceptions and one fumble recovery. The 6-2, 231-pound native of Montreal, Quebec, was named a First Team OUA All-Star as a senior after recording a career-high 48 tackles, four sacks, seven tackles for a loss, three interceptions and a defensive touchdown. Prior to Queen's, he played high school football in Maine where he played a number of positions including quarterback, receiver, returner, and linebacker.
Cibasu, 24, started all 31 games during his career at the University of Montreal, becoming the school's all-time leader with 145 receptions. The 6-3, 232-pound native of Montreal, Quebec, was named RSEQ Offensive Rookie of the Year in 2014 and was an RSEQ Offensive All-Star selection in both 2014 and 2016. During his career with the Carabins, the 2014 Vanier Cup MVP totaled 1,797 yards and seven touchdowns on offence.
Gingras-Gagnon, 24, played in nine games in two seasons at the University of Laval after transferring from McGill. The 6-0, 215-pound native of Quebec City, Quebec, was named a 2017 RSEQ Offensive All-Star after catching four passes for 31 yards and two touchdowns while rushing the ball once for nine yards. In seven games as a freshman at McGill in 2014, Gingras-Gagnon caught five passes for 71 yards and a touchdown while adding two tackles.
Harrington, 22, played in 24 games in four seasons at Michigan State University, recording four total tackles and a fumble recovery as a starter on all four special teams with the Spartans. The 6-4, 228-pound native of Commerce Township, Michigan, spent the 2013 season as a redshirt, earning Scout Team Player of the Week on three occasions after earning a spot on the team as a walkon.
Loiselle, 24, played in 41 games across four seasons at Wagner College, tallying 57 total tackles, three sacks and seven tackles for a loss as a Seahawk. The 5-11, 210-pound native of Quebec recorded a career year in 2017, posting 28 tackles, seven tackles for a loss and three sacks as a senior. He was named to the NEC Fall Academic Honor Roll in all five years at Wagner.
Anzovino, a 5-11, 226-pound native of Fort Erie, Ontario, attended Kent State University where he played in eight games in 2016 after making his collegiate debut the previous season at Illinois.
Jacob Dearlove Manager, Communications & Content, Toronto Argonauts Football Club